Animals in Love Notecard Bundle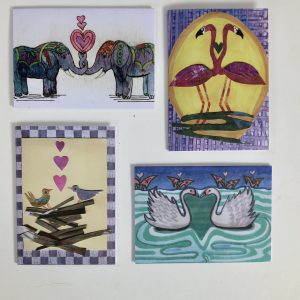 Four beautifully printed blank cards with white envelopes. Unique designs you will not find elsewhere.
deenaball
Water and pigment flow over the paper surface and I am in awe. Watercolor is simple and yet complex. The pigment and water combinations are endless. No other media matches the nuances and effects of watercolor.  Watercolor painting is a constant source of new discoveries. In my studio, I experiment with new ways to use watercolor paint by adding a gold ground or textured surface which makes the paint behave differently. Plein air painting or painting outside is another one of my favorite activities which also presents many challenges – from the weather to the problem of simplifying the landscape.
Only logged in customers who have purchased this product may leave a review.
Shipping Policy
$2.00 shipping or free studio pick up
Refund Policy
No refunds or exchanges on notecards.
Cancellation / Return / Exchange Policy
No refunds or exchanges on notecards.