"Neon Blue Angelfish Underwater Reef" with gold etching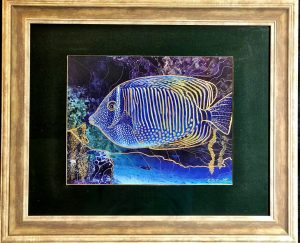 Original painting over digital photo image.
Whitewashed/gray frame. Size 24″x 21″
Ready to hang and enjoy!
Product description
Free local pick up, $15 delivery fee within 20 miles of Exton, PA
Shipping quote upon request.
Stephen D. Smith Photography
My freelance photography covers a wide range of topics including landscapes, seascapes, adventure/sports, nature, flowers, birds, and historic sites. I have had a special interest in photography for over 45 years, utilizing it in my dental practice for patient documentation, education, public forums, and scientific publications. My 2-volume textbook on 'Creative Digital Photography: The Evolution From 35 MM Film to High Definition Imaging and Beyond' was published in 2017. I have developed a fine arts photography collection which spans multiple genres of imaging. Since retiring from practice, I have continued my imaging work with teaching, participating in gallery exhibitions and photography fairs.  Resume: Waterscape subjects, nature with birds and flowers are offered as imaging prints and canvas wraps in various sizes. I have been creating watercolor and oil painting renderings from my original digital photographs. I have lately been concentrating on abstract closeup images, using colorful acrylic dyes and inks with bubbles and swirl patterns. My macrophotography in nature includes direct refractions through water droplets and micro-reflections through mirror imaging. Most recently I have been using my Photo Images as a base for crystal embossing, with a painting of multi-colored crystal layers into the artwork (flowers). I then use my Bluewave Laser Cam light and infrared (used in medicine and dentistry), to energize the crystal heated matrix. This radiates a "healing energy." A new type of Healing Art.
Only logged in customers who have purchased this product may leave a review.
Shipping Policy
Please inquire.