Sterling Silver Cross Necklace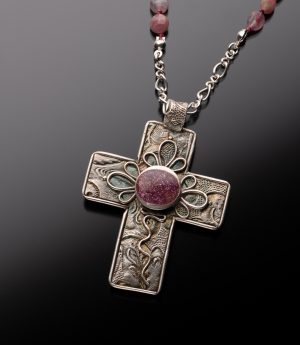 Handmade Sterling Silver Cross with Amethyst
and 5 mm Pink Tourmaline coin beads.
Necklace measures 26″ L
Statement necklace
OOAK
Product description
During the Roman Empire the cross was an instrument of capitol punishment.
Early Christians believed Jesus died on the cross for humanity's sins. The
transformed symbol of the cross became a sign of God's love, grace & ultimate sacrifice.
It was while researching the history of the cross that I realized good overcame evil.
This resonated within my very core because I have always been a positive person, seeking goodness and avoiding negativity.
This cross is handmade from sterling silver metal clay and the bezel is set with a crushed
lab created amethyst. The necklace is also handmade with sterling silver links & 5 mm
pink tourmaline coin beads.
Additional information
| | |
| --- | --- |
| Weight | 1.08 lbs |
| Dimensions | 2.25 × 1.5 in |
Only logged in customers who have purchased this product may leave a review.
Shipping Policy
Every item is shipped directly from the artist. Due to the varied nature of the art on this site, there is no perfect "one-size-fits-all" shipping option. Because of that we offer the artists (and you) a couple of different shipping options: USPS Retail Parcel Shipping and Handling: The artists may choose to offer this option if the item is less than 1lb. USPS Retail Ground Shipping and Handling: The artists may choose to offer this option if the item is less than 35lbs. Contact the Artist to Make Shipping Arrangements (You will be billed for shipping costs separately by the Artist): Some artists may offer this as an option. This would allow both you and the artist to work out the best shipping option that is not automatically generated through the system. If this option is chosen, the artist will bill you separately for the cost of shipping. Local Pickup: For artists who offer this, they will contact you to arrange time and location. Free Shipping: Some artists may offer Free Shipping on an individual shop basis. See the artist's shop shipping policies for more information. Please note: Each artist may have already listed estimated shipping costs and specific shipping details in their individual shop policies and product details. Please be certain to read the full product descriptions for any additional specific shipping information provided by the artists.
Refund Policy
All refunds, returns and exchanges must be coordinated directly with the artist. If you are unsatisfied with your purchase, or if an item arrives to you damaged, you must contact the artist within 10 days of receipt, or within the individual artist's stated time frame. If a condition of the refund is to ship the item back, please use the same or similar packing supplies. For items that were damaged during shipping, you must provide photographs of the packaging as well as the item that is damaged. Additional conditions under which a Refund, Return Exchange or Cancellation will be granted will vary from artist to artist. Please see that artist's page for their stated policies. The artists' contact information can be found in your confirmation email. You can also find the contact information on the artists' shop pages.
For the artist directory, please click here.
Custom orders and personalized items are not returnable unless the item is defective.
Cancellation / Return / Exchange Policy
Please see our Refund Policy.